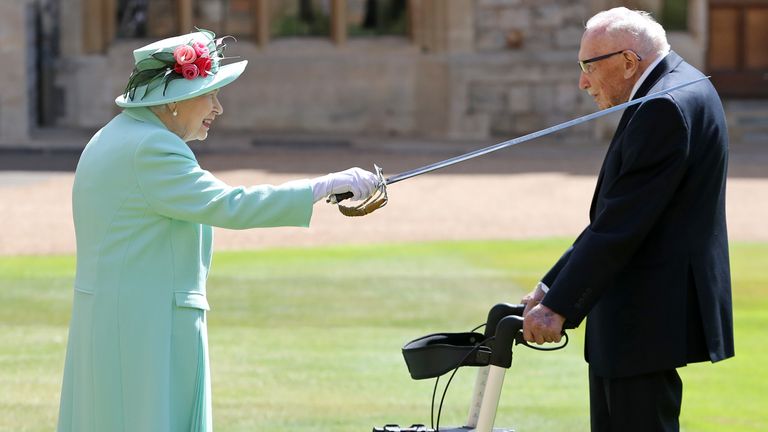 I admire Captain Sir Tom Moore. He is a national treasure and a beacon of hope for us all. Always cheerful, with a cheeky twinkle in his eye, Captain Sir Tom is an example to be followed. I have just watched a programme about his life and here are some hope lessons I have learned.
Life gives us perspective. Captain Sir Tom has learned wisdom throughout his hundred years and he approaches life with wise eyes. He has a 'get on with it' attitude. He has had his share of ups and downs, but still keeps going, just like he walked on his zimmer frame and raised millions for the NHS.
Captain Sir Tom takes his vows seriously. He visited his wife who was ill with a degenerative brain disease every day for five years. He took and kept his vows 'in sickness and in health'.
The programme began with Captain Sir Tom's grandfather. Our families are the building blocks of our future. Captain Sir Tom's grandfather was a hardworking, ambitious mand and this went down the family line. We model things to others and family is the rehearsal for a child's later life. If we have positive family role models, these are wonderful training grounds for the future.
Humility is the defining characteristic of Captain Sir Tom. He exudes a gentle, humble, yet exceedingly strong spirit. Humility and hope go hand in hand. Hope is not proud or haughty, or conceited. Hope offers a hand to help someone else go up the ladder first.
Today's recipe of hope is to celebrate a national treasure wherever you are. I would love to hear from countries outside the uK on your national treasures and why they are important. Look at their qualities and learn from them.
Thank you Sir Captain Tom, you are a great teacher! If you are reading, thank you for teaching me about hope. X
References